My apologies for my disappearance to my faithful readers (MWAHAHAHAHAHA... Ahem... I'm ok now.) We've been to a wedding over the weekend, and we've also gotten the keys to the new house, so we are painting and DIY-ing like Bob the Builder on Amphetamines, trying to have everything ready for the Move in a week.
Friday, the 3rd of June
. Our Moving Date; etch it in your mind with red-hot letters (in other words, Join the Club.)
The wedding was Stella's and Jon's (Peter's cousin) and it was lovely, featuring among other things Stella's friend, Maureen ("call me Loreena dear") singing a capella and Mia disco-dancing with her cousin, baby Harvey. That girl has all the moves, I tell you! When you see a two-year old lying on the floor and trying to slide between her dance-partner's legs, you've seen it all. In true celebrity style, we were fashionably late arriving; (translation: we arrived 10 minutes before the ceremony, me in jeans and flip-flops and with a t-shirt wrapped around my hair because it was raining, and walked in straight in the reception which was taking place in the hotel lobby, to be greeted by champaigne-drinking, evening dress-clad relatives, before running to the room to change!)
Anyway, very short entry today, because Peter is coming home and we have to go paint again. Until next time, here are some of the baby clothes I've picked up from the charity shop, and a new belly-shot with something extra! House pictures to follow soon, I promise!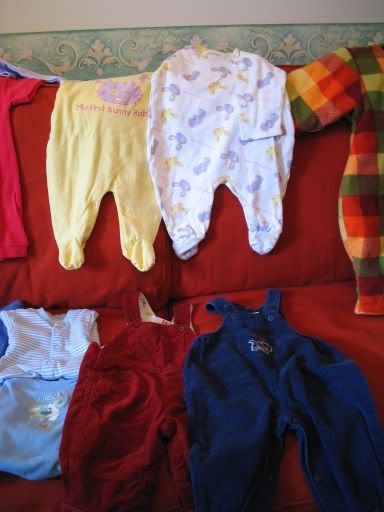 UPDATE!
Yes, I don't have time for a whole new entry... So shoot me (but then you won't get to see the pictures of the house, *snigger snigger*) We have now finished painting the two bedrooms, and laying the floor in Matilda's room. It looks so lovely, I can't wait until we move!
Of course, getting this done involved me spending a lot of time covered in paint and dust, getting around on my hands and knees, or scooting on my butt (Hey, have you ever tried getting up from the floor with a great big belly in the way? It gets old quickly!) On the bright side, it just so happens, according to my midwife, that these are exactly the things I have to do as much as possible, to help the baby take the right position for labour. Who would have thought that women ARE actually meant to spend hours on their hands and knees, scrubing the floor? Funny that.
It's been quite warm here lately (really hot, for english people) and several unsuspecting strangers have seen the Belly and asked me if I've started suffering in the heat yet. My greek readers, please join me in LAUGHING LIKE A LOONATIC at this comment. I'm greatful for not being in Athens though!
More at a later date :)