Ok, so we're finally all set for Matilda to arrive. We went shopping last weekend and bought all the stuff we need -well, the important stuff really. Car seat, pram, bucket to wash her in (no, just kidding!) Well, ALMOST kidding. When we were in Mothercare shopping, Peter's mum asked if we had gotten her bath tub yet, and I said well...actually...we were going to bathe her in the sink. I thought Mothercare's ceiling would split in two and the God of Consumers would point an accusing finger at me
("Heathen! Infidel! Quick, pelt her with Humphrey's Corner plastic spoons and sound-activated Winnie the Pooh Crib Mobiles -that project images on the ceiling and promote focusing skills and eye coordination, suitable from birth, JUST £29.99!")
Hey, we DID get a nice new plastic bowl for washing her in, and the sink is just the right height so we don't have to bend. And I suppose our poor deprived baby will just have to look at *us* to practice her focusing skills ;)
Do you want to see our nursery corner? This is where Matilda will sleep.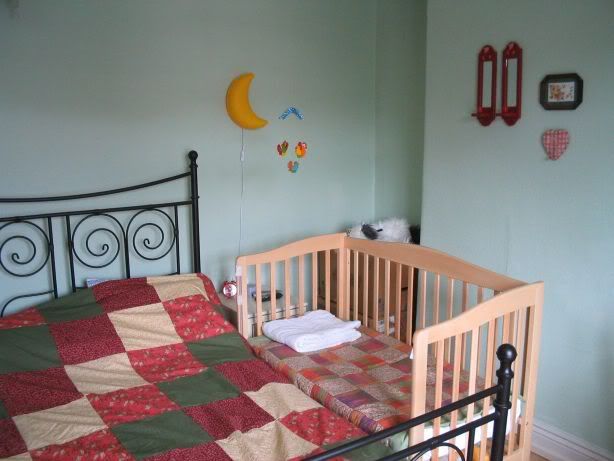 To other news, our Birth Pool arrived this week. So I can be floating in water while Matilda decides if she should be asking for directions or simply
Go to the light!
I'm really looking forward to it, I've been going to the swimming pool for Water Aerobics for Preggos and being in the water is heaven... I dream about that hour all week.
SO
relaxing.
Our baby is getting *really* big, she can't really kick any more, just wriggle and squirm around (and see how much she can limit the filling capacity of my lungs before I faint.) On occasion, she sticks her butt out (currently situated under my left boob) or her foot (currently situated under my right boob.) Other joys of pregnancy include the uncanny ability to urinate every few minutes -SUPERPOWER! (
Experiment:
Pick a newspaper article you find interesting, take it to the toilet with you, and see how many *separate* times you can pee before you finish reading it. My personal record is three times, and we still have a few weeks to go before Matilda stops using my bladder as a cushion.)
Wanna see my Belly? Come on, you know you want to! All of these pictures are easily found in the Belly Gallery, but since I know most of you never bother to check for updates, the Belly will Stalk you, and that'll be your Punishment: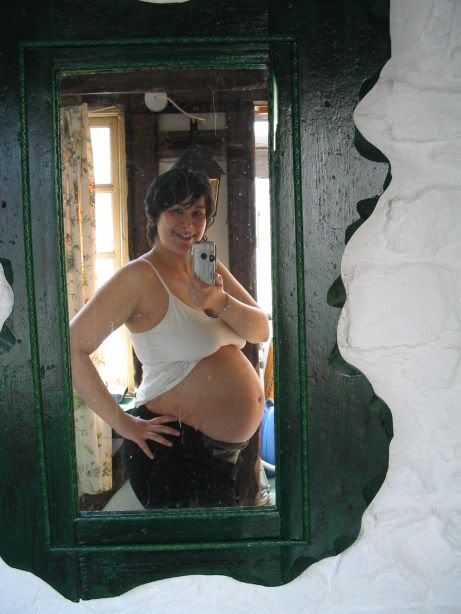 And here's another treat: I found these pictures of Peter when he was little. WOW. Well, I got all excited and spent the next couple of days telling him "Oooooh. You were such a GOOD LOOKING child!" until he gave me a strange look and said he wasn't sure how to take this, so I had to stop. But you understand, don't you? DON'T YOU?