Matilda is developing a sense of humour! Last night I was trying to feed her and she kept teasing me, turning towards the nipple and then looking up with this goofy grin, expecting me to laugh with her. Again...and again...and again. She obviously thought she had come up with the best joke in her life (not that that's saying much,) and was enjoying every minute of it, the little tease! I never thought I'd have to say it this early, but
MATILDA STOP PLAYING WITH YOUR FOOD!
She's also stopped crying, and instead she has taken up what we call "doing the parrot." It sounds a bit like this: Croack-croack- Shriek SHRIEK! SHRIEK! SHRIIIEEEEEEK! SCREEEEEECH! (Repeated indefinately until you give her whatever she wants. But not crying. Crying is for babies -doh!)
Also, in this month's issue...
Children are so sweet:
Especially Natalie's children. They're used to babies, they like them, and they don't mind showing it. They've gotten to see Matilda a bit more lately, as we've been more out and about, and they're all over her every time. Ola (2,5) will try to feed her crisps, and she'll bring her precious cuddle-blanket to me, so I can cuddle Matilda with it. Reggie (4) likes her a lot too, and introduces her to his friends when we go to their place. ("Look, look Edward! This is Matilda!") and wants me to put her on the bed next to him ("Look, she's not crying! I made her stop! She really likes me, mummy!") It's almost too sweet to watch (but not quite. I love watching it.) Also by Reggie: "Matilda! Matilda! Matilda! Oh Matilda, you're adorable!"
Here's Matilda with the Next Size Up (Atticus)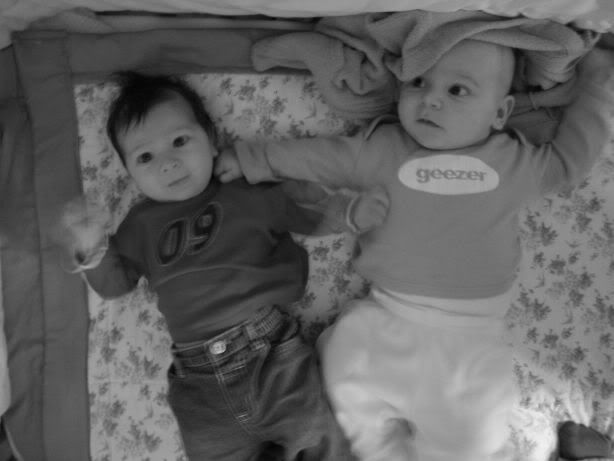 Awwwww, aren't they sweet? No pressure there, but don't they make a nice couple, wink-wink-nudge? (Oh, and don't mind the punching. They were holding hands a few minutes ago.)
Cradle Cap Cure:
Matilda has developed a small but annoying case of cradle cap -it's like baby dandruff, and apparently, the recomended course is massaging the baby's head with oil. So I've been oiling my little grease-monkey regularly, and now the cat likes her EVEN MORE! He keeps wanting to lick and groom her head, which causes her to coo with pleasure, and also, conviniently, causes the flakes to come off. So there you go, a truly ORGANIC cradle cap cure. Infact, that's what he's doing right now, that's why I got the time to blog. I keep trying to take a picture, but he's too fast for me... SOME DAY!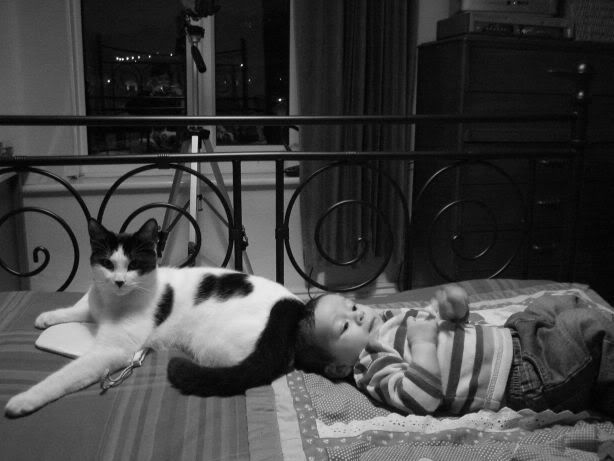 Preggo Brain Revisited:
Here's an actual conversation I had at the swimming pool, with some of the (still pregnant) aquanatal girls. (And before you acuse me of being mean, I refer you to my
Farewell to Braincells
post. I am NOT pointing any fingers here. Just stating the funny.)
-Have you seen Rachel, she had a little boy.
-Oh, who's Rachel, I don't remember her...-Ummm, blonde, due about the same time as me... -Oh, the one from Slovakia?-No, that was Sylvia. Rachel was with us that day we went out for lunch.-Oh, a reall small girl with a ponytail?-No, that was Zoe. Rachel was the one who said she had to go back to walk her dog.-Oh, the one with the swollen feet!-Yes, the one with the swollen feet. -I remember her now... What was her name?-Rachel.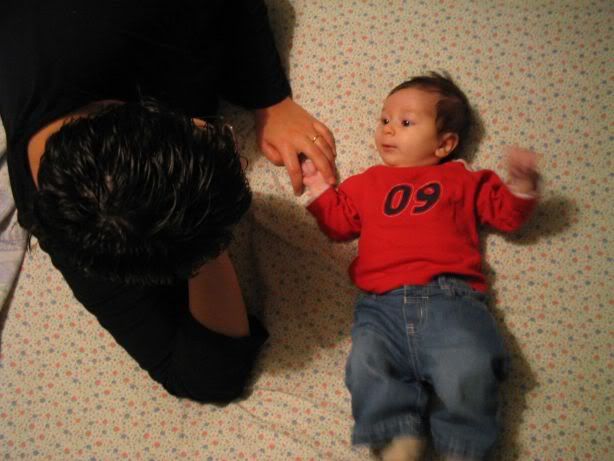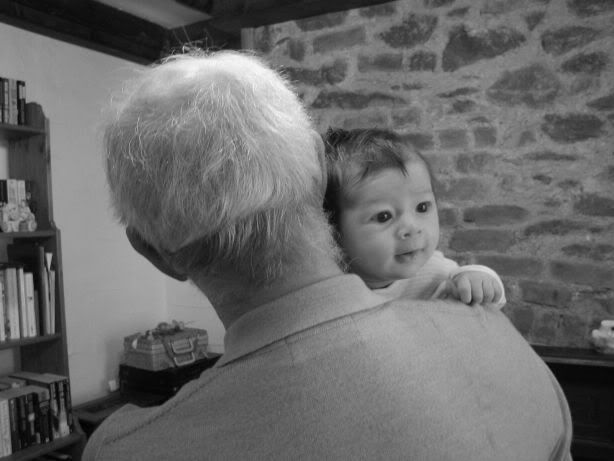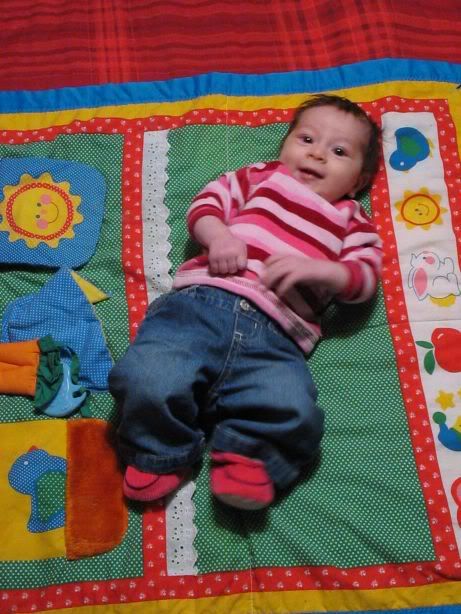 Here's Matilda Sleeping on her Daddy... So sweet.