My New Year resolutions:
I will stop caring so much what people think about me
I will be more patient
I will tidy up after myself more
I will lose weight
My New Year Resolutions that I will fail to keep:
I will stop caring so much what people think about me
I will be more patient
I will tidy up after myself more
I will lose weight
Oh well...
I really REALLY missed my family this Christmas. Which is silly really, because Christmas with Peter's family are generally more fun (We play games and we go to bed really early. Ok, fun for ME.) Then there was New Year's Eve... New Year's Eve went something like this: I forgot it was New Year's Eve. I remembered around 21:00, and I also remembered that our fridge was empty (because we were at Peter's Family's for Christmas.) Supermarkets would be closed for two days, and Peter had to rush out and get emergency supplies (so we wouldn't have to eat the Cat.) While he was out I got lonely, and it was too late to start calling people on the phone.... Then it dawned on me: this is the ONE night when it's not too late to call anyone. So I called the Greeks for Greek New Year (22:00 in this country) until Peter came back with microwave ready meals and orange juice. After that, we wished eachother a Happy (Greek) New Year, jumped in bed and watched recorded Lost episodes. This, as some of you will know, is VASTLY different to what I used to do in Greece on New Year's Eve. Back then, in my wild days of youthful abandon, I would slink around until I finally collapsed somewhere and fell asleep. Then my brother would come poke me and say "wake up you doink, it's ten minutes to midnight," whereupon I would drag my bleary-eyed self to the next room, wish everybody a happy new year, and collapse again. Ah, those were the days.
On a more up-beat tone, Matilda now can:
smile and laugh al along if people are laughing at a joke -never mind that she can't understand it!
Jump in her bouncer -for ages. As long as you look at her and say "Well done baby!" she'll give you a big grin and jump even harder.
Smile at and reach for the cat. Same for toys that she wants. We have communication.
Generally, if you haven't figured it out, she smiles a lot.
Roll from back to tummy, both sides.
Sit up with support.
Pull herself up and stand for a while, if you hold her for balance, or let her hold on to your fingers.
She still has one dimple on one side of her face. She grabs her ear and holds on to it when she wants to fall asleep (what's up with that?) and we spend sweet, sweet mornings cuddled up together in bed, with her stirring in her sleep, stroking my sleeve (or the nearest boobie, heh-heh) and falling asleep again. You're still there mummy, ok. Stay there.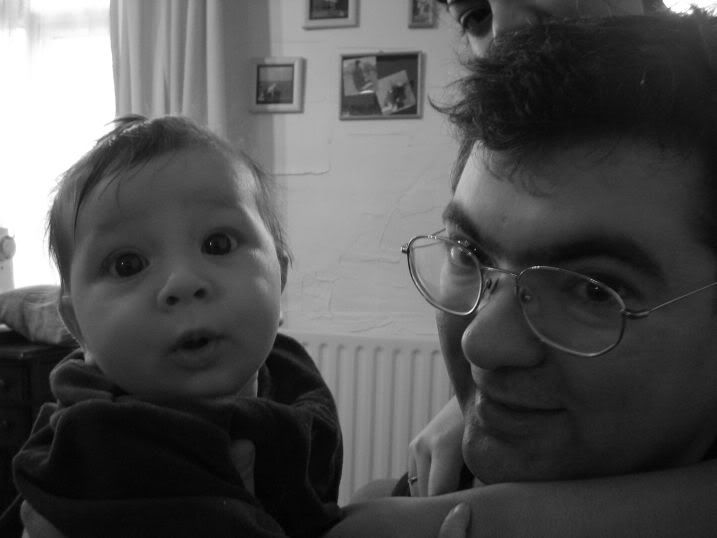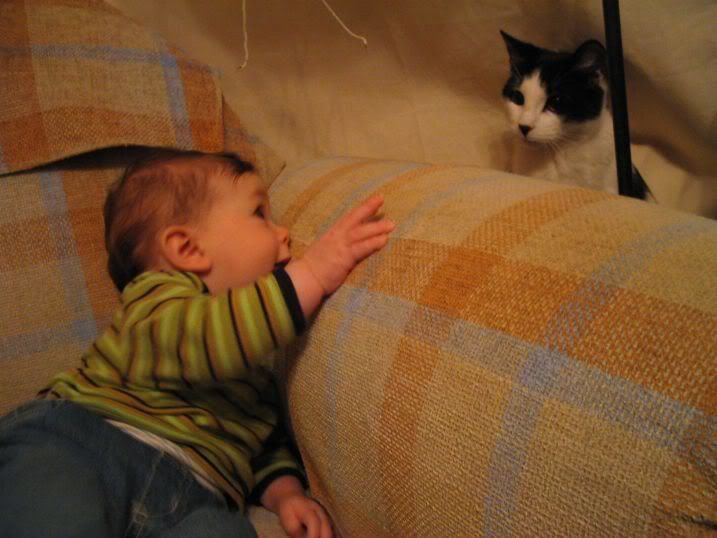 ]
Jill thinks Matilda looks like my mum in this picture: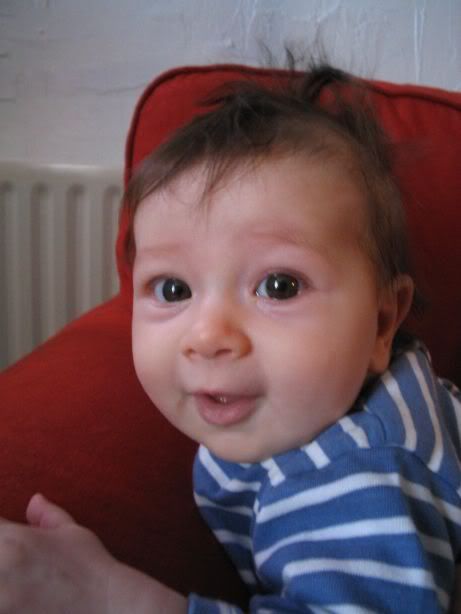 We like to call this picture The Heil Boobie: