Matilda had a very good Christmas, thank you for asking. Oh you didn't! Oh, you'd forgotten I exist because I haven't written a post for so long! You can blame the pre-holiday rush that can last for a couple of months, the holiday, the post-holiday recovery, pregnancy, or Matilda for trying to steal my keyboard and write her own posts every time I sit down to do anything more demanding than delete my spam.
The child is starting to worry me. She seriously MUST have anything that anyone taller than 5 ft (and called mummy or daddy) is using. It doesn't matter how inappropriate, uninteresting or downright dull it is.
A rubber band? Wow, can I have a look?
Plain bread that I wouldn't have eaten if you offered it to me 2 minutes ago but it now is being eaten by daddy? Bead! Bead! Bead! Bead! (repeat until bread is stuffed into mouth to shut her up, or head explodes.)
A piece of onion skin that mummy picked off the floor? Cool, can I play with it? (That's my excuse for not picking the onion skins and other assorted debris off my floor, in case you haven't guessed. It provides stimulation.)
A few weeks ago, I was so desperate I was trying to read two books at the same time, so that every time she asked me for book #1, I'd go on to read book #2, until she asked for book #2, so I could switch back to book #1. It was a great plan with a fatal flaw. She switched between books so quickly I didn't have time to find my place on the page again.
She says so many words that I've lost count of them now. We made a honest-to-goomba list in early December, and only allowed ourselves to include words that she will say unprompted, and use correctly -not the ones she would just repeat. There were still about 50 words on the list, and she uses even more now -combining two words is the new thing since Christmas. She sings to herself and she's so good at it we can even tell which song she's singing. She puckers up, closes her eyes really-really tight and stands infront of you, waiting for a kiss.
Christmas at the Park: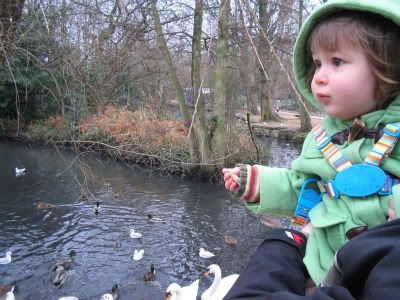 We got Matilda cds for Christmas. She enjoys music so much we thought she needed some more variation, so I went to Amazon and used the nifty "listen to samples" option to see what she prefers. In the end we ordered
this
. Every time she heard the samples she started dancing and humming to herself, so it was a hit. She got lots of lovely presents from everyone else who loves to lavish gifts on her and is not cheap like us (*tee-hee*) including the hit-of-hits, a baby doll with a pushchair. Baby goes everywhere with her now, gets kisses, gets fed, watered, and put to sleep ("Shhh... shhh...baby seep!")
Matilda with baby: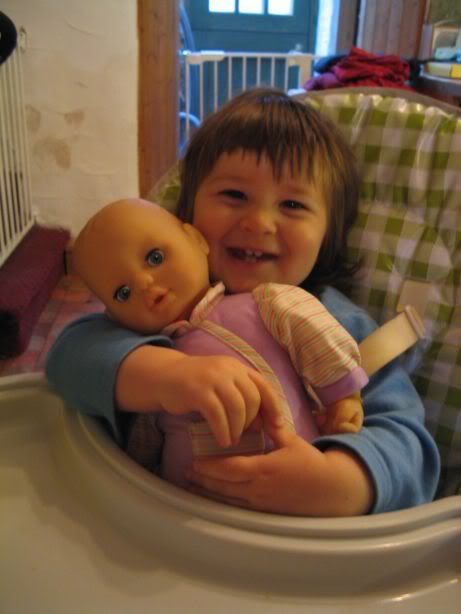 She's also been stuffing baby and her trusted Coconut Teddy under her shirt a lot, saying "Side! Side!" (inside,) which I thought was her version of peek-a-boo, until she made me privy to the whole game scenario, by saying "Side! Baby tummy! Mummy tummy!" and I realised that we tell her Mummy has a baby in her tummy a lot. She was trying to immitate the bump!
The Bump at 31 weeks, a couple of days ago: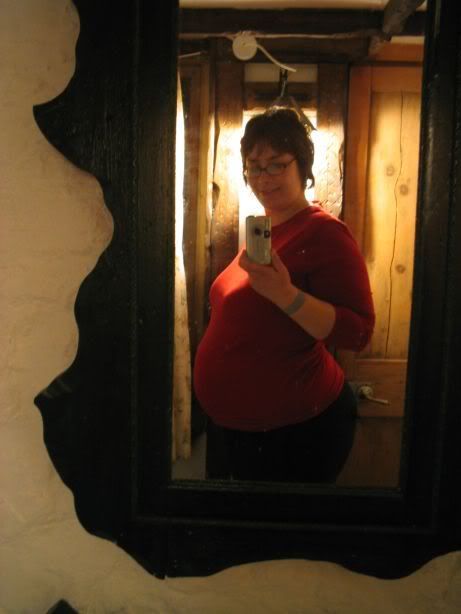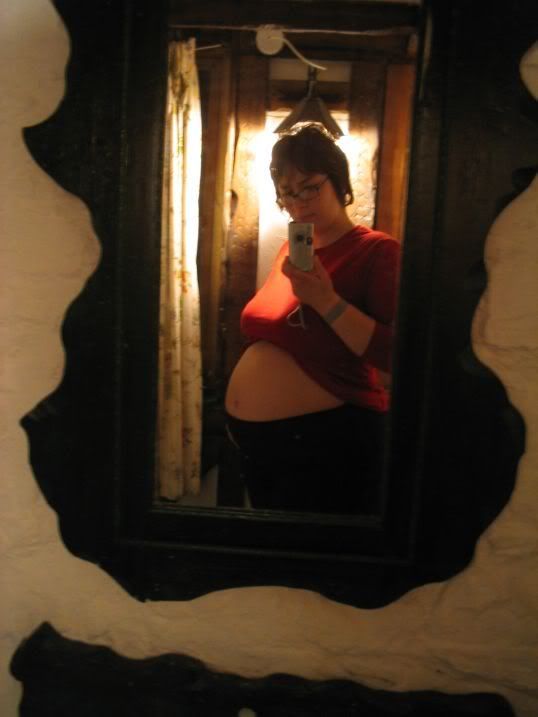 Matilda with Coconut, venturing out of "mummy's" shirt for once: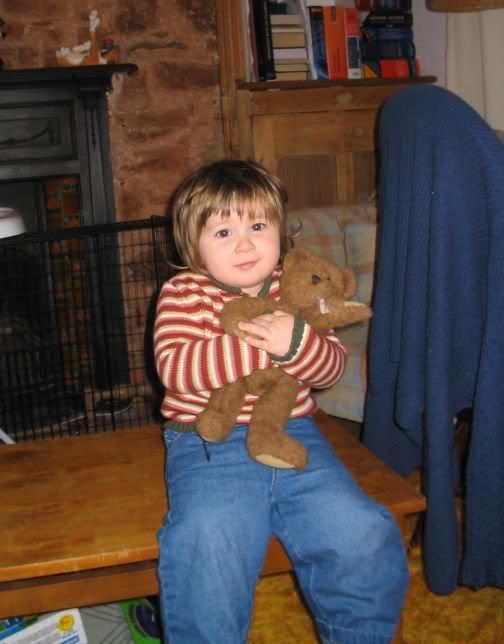 She still doesn't really speak Greek, although she understands it quite well. She's started repeating things I say in Greek though, which is a good start. Yesterday morning, I said "S' agapo Matilda" (I love you Matilda for the non-Greek) and she said "Sapapo... mummy!"
She is still, however, a horrible climber. Her latest is climbing in our armchair, over the arm of the armchair, onto the windowsill, standing behind the curtain and saying "peebo" to the people walking outside.
Matilda playing her favourite game, "Cow-Head." Apparently, putting a cow on a person's head and watching it fall off is the height of humour. The cow disagreed.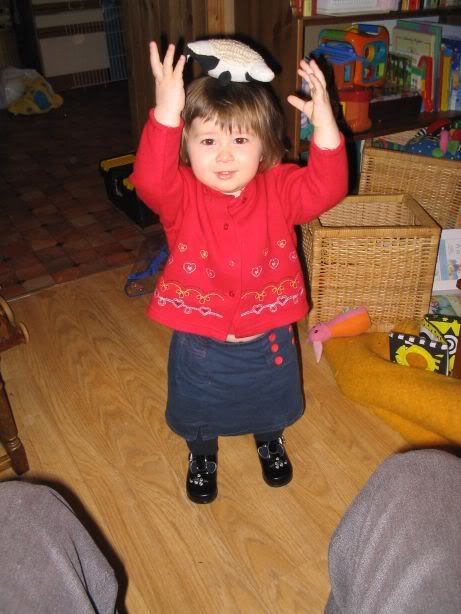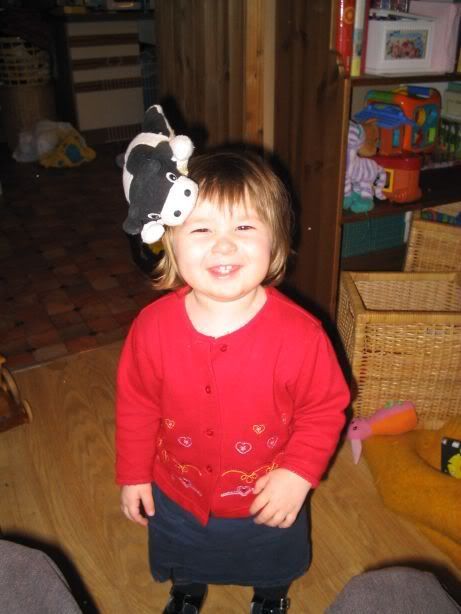 You think it's easy being a baby, try walking a mile in MY shoes.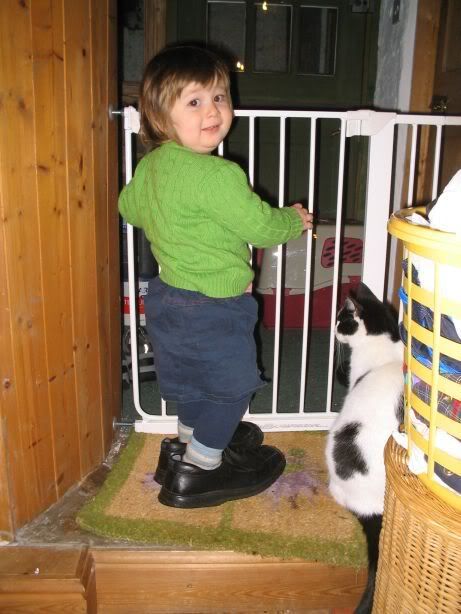 And after such a hard day, they STILL expect me to tidy up my teddies!