When I was pregnant with Philip, I really thought I would find it strange, having a boy after being used to having a girl. I thought I'd have trouble adjusting... I mean... all the extra
bits
! As it turns out, it was more of a shock to see how unlike Matilda he looked, I barely noticed the winkie.
(What is this creature? My babies don't look like that!)
There has been some winkie-related adjusting involved though, and it has to do with nappy changes.
Now, I am going to take a leap here and assume that there are some of you who have never changed a baby boy's nappy, and are interested in the process. For one thing, I don't know about you, but I was kinda nervous handling the... you know... the wobbly bits. I mean, newborn poo is really sticky; there is some scrubbing and rubbing involved in its removal; what if I hurt him? (After a couple of nappy changes, I got quite ruthless about that, and he didn't seem to mind.) And then, there's the peeing. You are mid-nappy change, you gaze down at your baby son and
-hello there!-
his bits have perked up and are looking back at you. Before you have time to think "Ooooh, bless,
just
like his daddy" he pees on you, the table, the floor, his face, and if you were really quick in getting out of the way, he might even manage to pee as far as the fridge. (
Question
: After my son has peed himself in the eye, is there any form of disinfection in order? Really? Even if he does it all the time?) There are two morales in this story: 1) Every time your son starts looking especially...ahem...well endowed, grab the nearest piece of fabric and slap it on. 2) Stop being annoyed at men for sprinkling the toilet seat. After being the mother of a boy, I'm impressed they grow out of getting it on the ceiling.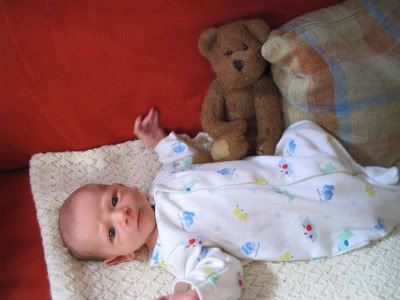 Actually, the only thing Philip does more often than pee himself in the eye (appart from breastfeed. Duh. ) is poop. With Matilda, there was a lot of tummy rubbing and crying involved in producing a dirty nappy every other day or so. Philip practically has it running out of his ears. It goes beyond making a dirty nappy every time he feeds (which is constantly. Hmmmm...) Between Peter and me, in all the times we checked his nappy in the four weeks he has been with us, we found he did *not* need a change a grand total of
five
times. His specialty is
the skidmark
. Every time he burps, farts, sneezes, or indeed, moves energetically, this
tiny
amount of poo seems to leak out of him. Not enough to warrant a nappy change really, (although we
do
change him,) but enough to give him a sore bum if we don't wipe it. Also, he specializes in producing loud, impressive poop-explosions, when I least expect it. For example, after I've just started giving him a nappy change, stopped to strip him, change his clothes and clear the table because he's peed on everything (see above) and
just as I'm doing up the very last popper of the clean sleepsuit that covers his fresh nappy
. You know how you're supposed to allow an extra ten minutes before you have to go anywhere, for an unexpected nappy change? Well, this doesn't make any sense at all with Philip; you might need to change one nappy, or two, or three; and if you start too early, you'll just have to do it again before you leave!
Who are you calling a Poop Machine?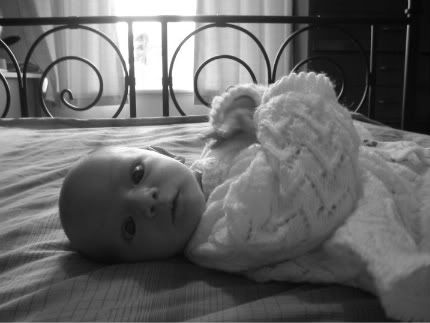 Note of warning: Here's what happens if you spend your pregnancy watching The X-Files: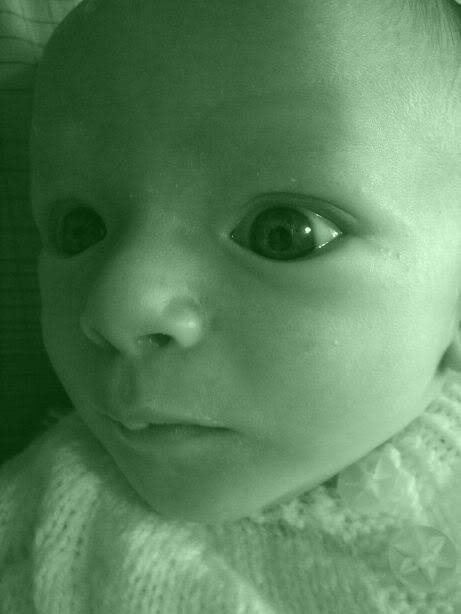 If you think this is bad, you should see my birth video. I'm grateful to have it, because when it became obvious I was going to give birth in the hospital, I didn't even think to ask Natalie to bring the camera with her; it was all her initiative (how great is she?) If you see the video though, her hands were shaking, she was holding the camera sideways for a large part of it, and night-vision was on; Basically, I look green, my eyes are glowing ferally, and I'm screaming. It's like Blair Witch Project: The Birth. (One of this days, I WILL find something warm and cuddly to associate with my babies' births. Really.)
Matilda in her stripy tights: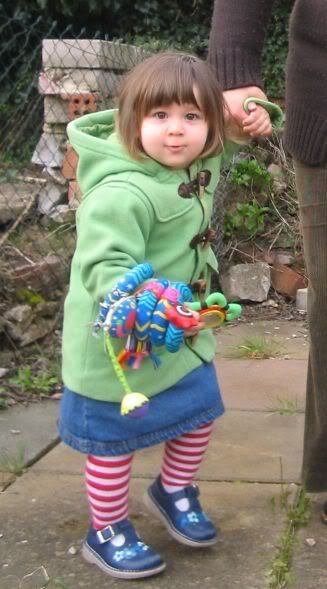 And wearing the amazingly cool t-shirt Gennie sent her. Thanks Gennie!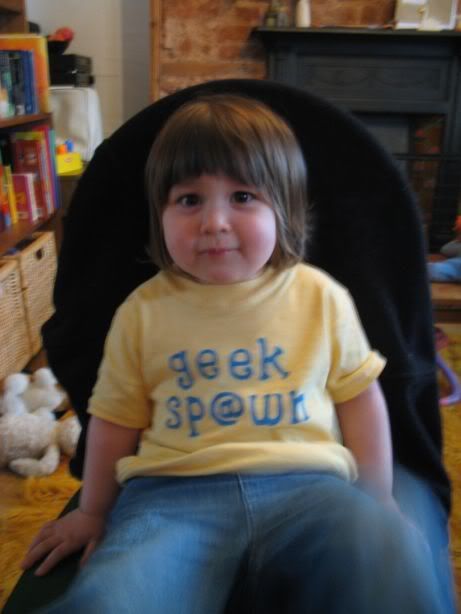 Philip in my yummilicious Delhi Hopp Wrap
; This was the first wrap I ever got (a month ago!) and I like it sooo much. I'm hooked now, I want more! I've got to have a thin one for the summer at least!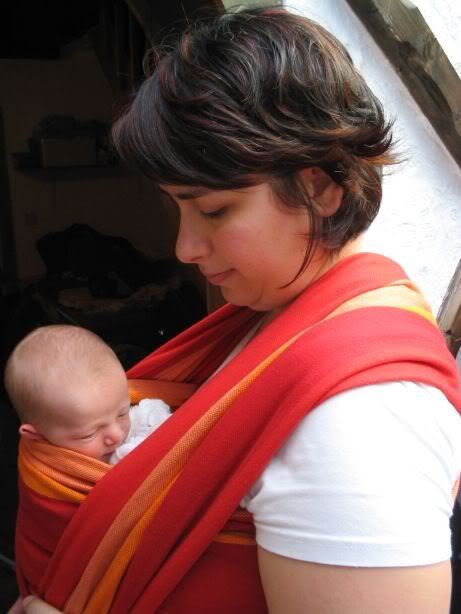 Oops, he's awake!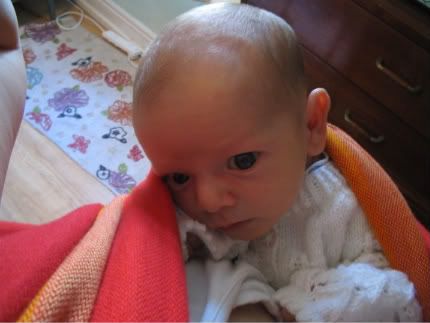 And sleeping in a Terra Indio, just as I was writting this blog: