There are three main positions with the wrap. Front, hip and back.
When wrapping your baby, don't worry too much about the wrap getting
untied. As you'll discover, there's so much fabric going around that
the baby will not SUDDENLY slip even if the knot was completely
untied. As long as the wrap goes nicely over baby's bum, all the way
to under her knees, and her knees are higher than her bum, she's
safe. (This makes her bum her center of gravity, so she can't slip
out.)

Front Carries:
Suitable from birth.
FCC (Front Cross Carry):
(good because you can pre-tie it before
putting baby in)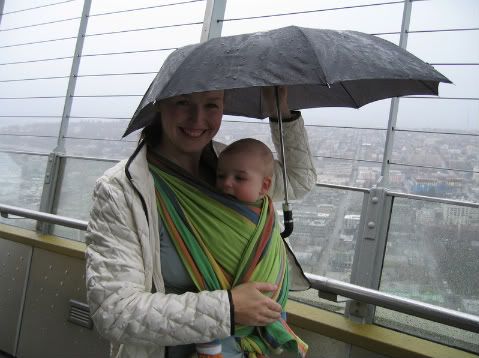 FWCC
(front wrap cross carry)
My very own ('scuse the flab!)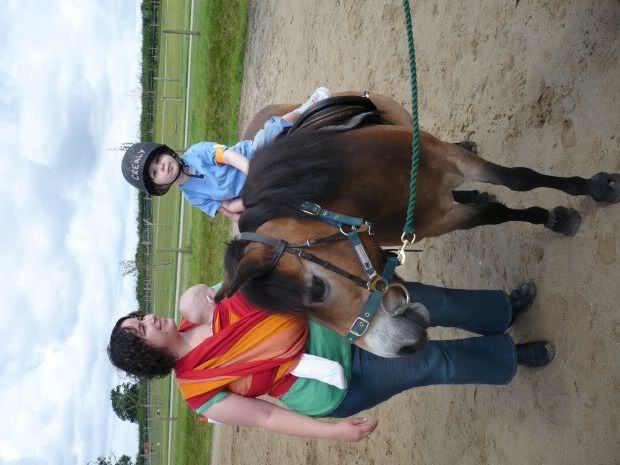 Hip carries.
These are your best next step. They distribute weight MUCH better
than front carries, you can switch sides when you get sore, and baby
will have much better visibility. She should be ok with those as soon as she can sit with support; the wrap will support her so it's similar.
Here is a link to my favorite: It's called
Poppin's Hip Carry.
Photo by the inventor of it, featuring her little girl!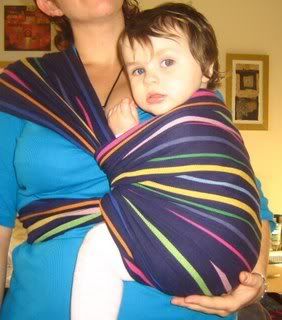 Thread
with photo instructions devoted to it
Back carries
.
Back ties are VERY comfy as far as weight distribution goes. They're
generally better for older kiddos, after they can sit up. They also
look a bit scary, with moving baby up to your back. I know, I was
scared too. I will post a couple of links of THE best and most
secured back carry I've found, for if/when you want to try one. There
is NO WAY any child can wriggle out of that one, Philip is the worst
wriggler and feels completely secure with that one.
How to put her on your back:
This thread shows the
"Superman Toss".
It's easier than it looks -
practise it over a bed. Notice on the video: As you cross your arms
to pick up the wrap, the top arm has palm facing down, and the bottom
arm has palm facing up. Up arm-down palm, down arm-up palm is my
mnemonic. I know it looks complicated but it really is easy when you
try it (after you get over the fear!)
I KNOW this looks scary but once you do it, I promise holding her by
the top of her arms works well and once she's on your back, if you
pull it tight and tie the knot on your chest it will keep her snug
while you do the rest of it. If you do it over a bed, she'll fall on
soft if she wriggles out. Just make sure the fabric goes over her bum
(reach back and check.)
Tip: Do it in front of the tv, she'll be distracted and wriggle less.
How to do the
Secure High Back Carry
Paulus, the inventor of SHBC and his gorgeous baby.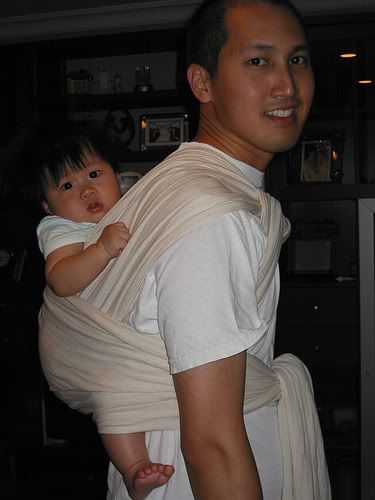 Thread
devoted to it.
Another
thread
devoted to it.

Other resources:
Front
Hip
Back
Lots of links
devoted on specific carries.
You can find lots more video and photo instructions for different
carries
here
(If the link doesn't work, go http://www.thebabywearer.com/forum/
then Choosing and Using a Wrap. Top of that page, it will have
Sticky: Wrapping instruction Links.
I'm not sure if you need to register to view these, but it's free and
easy. Very helpful community too.)
You can also buy used wraps and save money on the babywearer, just go to the
For Sale Or Trade
page!
As far as wrap length goes, all that fabric takes some getting used to. All of you normal sized people could do all of the above carries with a size 6 (4,6m) or even a size 5 (4,1m.) FWCC and SHBC need the longest wrap, then FCC and the hip carry is the one that can be done with the least fabric. (But if you have a wrap that's too long, you can always just take it around your waist an extra time before you tie it.)
All the photographs are taken from The Babywearer community (www.thebabywearer.com) They were posted publicaly already so I hope they won't mind.
This post was inspired by
Charissa
, and her absolutely gorgeous, adorable adopted little girl, Ava. I wish I could just kiss her!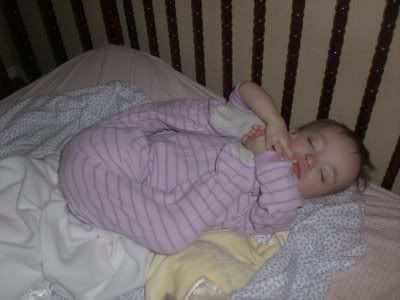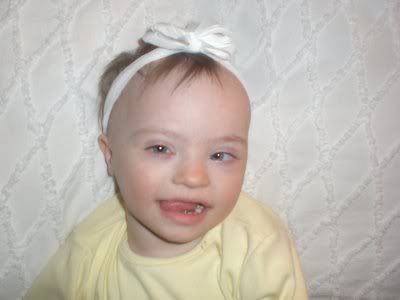 Anna