Matilda was supposed to start pre-school this September. I say "supposed to"; there are two preschools she could go to in the area (since I don't drive, they have to be easy walking distance.) One of them will only take her if she's potty trained to the degree that she can go to the toilet by herself, sit on it, wipe herself and get dressed again without a reminder. NOT even close there. Matilda will stay dry most of the time IF you actually sit her on the potty at regular intervals, and she definately still needs a nappy to poo in. So that only left us with one option: Preschool "A".
We visited "A" and it seemed nice enough; Matilda stayed there happily for 2,5 hours the first day. I had explained that I would go shopping and come back to get her, and she seemed happy with that. When I went to pick her up, she was playing, but at home she was very clingy and said she was cross at me for leaving her.
The second she didn't want me to leave, so I stayed for a bit until she seemed to settle, and then left. I got a call about an hour later from the staff, saying that she was upset (I had asked them to call me if she got upset and wanted me.) I went and picked her up -she had still stayed for about 90 minutes total.
After that, she REALLY didn't want to go, so I let her stay home a couple of times. Then I told her that we could go to preschool, she could play with the other children, and I would stay with her. I had asked her key-worker if it would be ok for me to stay as long as she needed me to settle her before we agreed to send her there, and she had said yes. We got there, she started chatting with a little girl, and I sat down in a corner to watch. As soon as she noticed I wasn't next to her, her face fell and she got really anxious, looking for me. I called her over and explained that I would be sitting right there on the sofa, and she could go and play, but she just clung on me. After a few minutes, one of the staff came over and told me that they only "let" parents stay with new children for up to 10 minutes, and that hopefully she would settle herself, and they would call me if she got too upset. So I stayed for 10 minutes, and then I took my little girl and we went home.
EXCUSE ME? WHY should we only stay for 10 minutes? In what Universe are 10 minutes enough to settle a child to a new environment anyway? They told me some bull about OFSTED child protection regulations, but I happen to know this is just an excuse because a. I did a childminding course earlier this year and I was TOLD what the OFSTED regulations are, and b. the preschool that would only take her if she is pottytrained had actually told me they are happy for parents to come and stay with their child as often as they need to until the child settles in. So this begs the question: why exactly don't they like parents being there? What are they REALLY worried about? I don't know and I don't care -I'm just not happy leaving Matilda there anymore.
This whole pre-school/school rollercoaster is really annoying me... I don't like rushing my children to do things. They will do everything when they're good and ready. So Matilda isn't potty trained yet. Ok, she's a bit old for it, but what's the rush? We know there's nothing wrong with her, so what difference does it really make, in the grand scheme of things, if she wears nappies until she's 3, or until she's 4, or until she's 5? (I'm just saying.) The difference is that she needs to be potty trained to go to preschool "E". And what's the rush for her to go to preschool? The rush is that she is supposed to start school FULL TIME the school year after her 4rth birthday, and, since she is an August baby, this means that she would be starting school in exactly a year's time. So I kind of feel like I should be easing her into spending part of her day away from me before she's expected to do it from 9:00 to 3:30.
What is wrong with this picture? Matilda is intelligent. I have no doubt that she will have absolutely no trouble following the curriculum at school. But am I the only one that thinks 4 years old is a bit too young to be spending the majority of her day with strangers? If you factor in going to and from school and sleeping, that leaves about FOUR HOURS that she would be spending with her family each day -and thay's without ANY time allowed for homework or any other after school activities. I am sorry, but I don't like this. Not at 4, not at 5 and not at 6.
And to facilitate this... school career, I have to start training her, pushing her away from me now, at 3? Matilda is a happy child. She is secure and sociable. She is very affectionate and demonstrative, she comes over for hugs, cuddles and kisses often throughout the day. She loves other children, she is good at sharing and very good at accepting instructions and explanations of why she should or shouldn't do something. When she is feeling comfortable, she is not clingy at all. Several people, including the social worker who visits for our homestudy, have commented on how good both our children are at playing by themselves. So she isn't potty trained. So she likes me to hold her cup when she's drinking. So she wants to be around her loved ones. Why should I train her to not be around us before she's ready for it herself, and in what ways will this change her in 3, 5, 10 years' time? And will I like what it does to her?
Will I ever manage to find an answer?
My babies being superheroes:SuperPip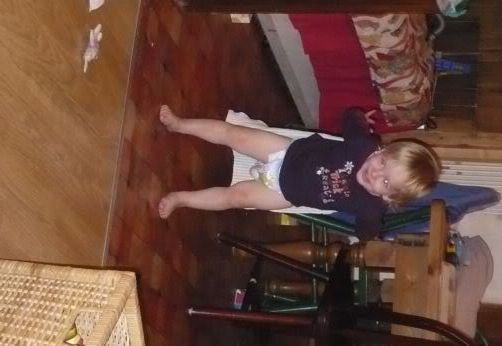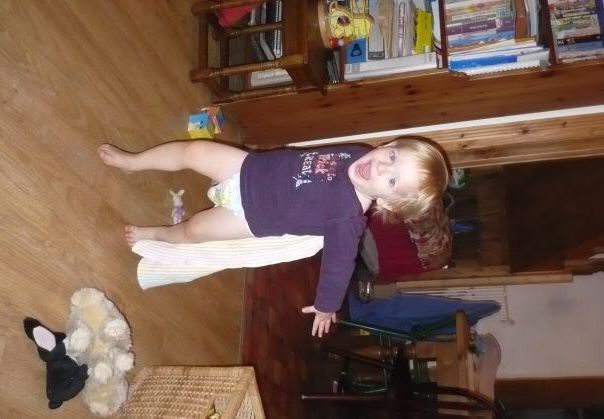 Mighty Mat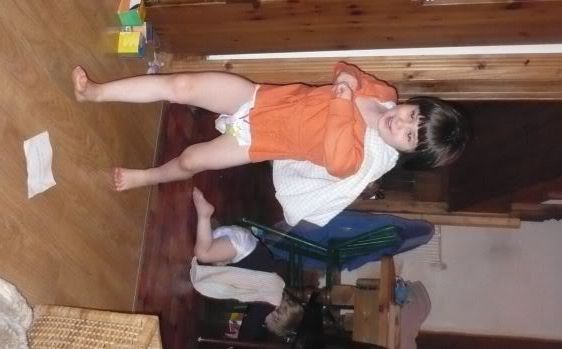 Superhero Power: Levitating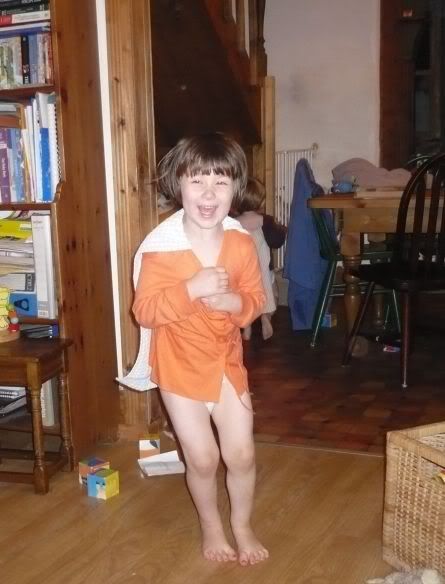 SuperPip and Mighty Mat TO THE RESCUE