A
reborn virgin
, I mean. Yesterday, 31 October of the Year of Our Lord 2008, this humble reborner sold her first baby on Ebay. AND!!! Made a profit of £15.
Yes, Marilena thought it was very fitting that Frankie sold on Halloween, as she had originally suggested I use him for a Halloween prop, but she doesn't really appreciate the cutenes of ugly babies. On the other hand, I do, after having fallen in love with this face:
By the way, guess what... Turns out that matilda and Philip DID look like each other after all: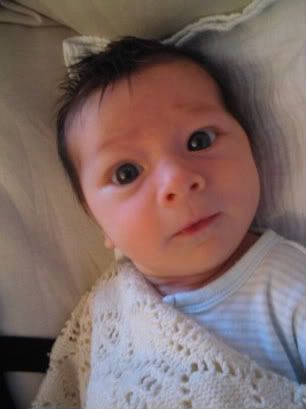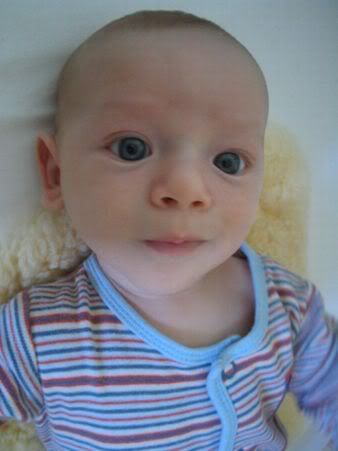 Marilena likes really beautiful faces, like this one: (This is Christopher, my latest reborn which will soon hit Evilbay.)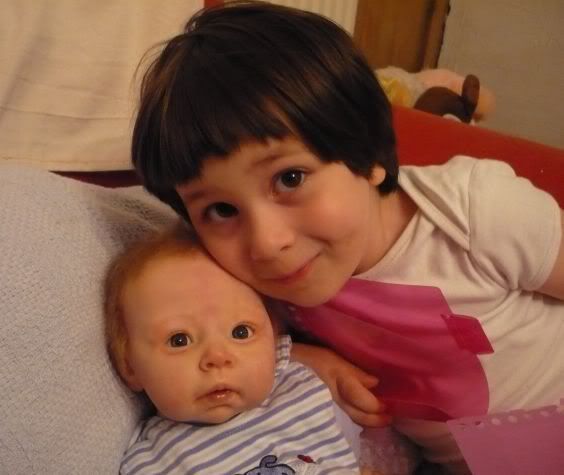 Latest Matilda-isms:
Matilda has developed her understandingn of the concept of borrowing. As in, every time she wants to take something away from you, she says she will borrow it. She uses this especially frequently when she wants to eat some of your food, as in "Mummy, can I please,
just for one minute
, borrow your chips?" (And when exactly are you planning to return them?
Hmmm?
)
Apparently it doesn't work both ways though,because yesterday, I was using her xylophone to balance something on my lap. If I recall correctly, the conversation went something like this:
"Give my my xylophone! It's MINE!"
"Matilda, I'm just borrowing it for a minute."
"NO!!! You're NOT borrowing it! You STOLE IT!!!"
A few days ago I was getting her ready for bed, and kissing her tummy in the process. I said
"I love your tummy."
And she replied
"No, you love ALL of my body!"
So true...
Here is
Philip being a "Bee-baff
" (giraffe)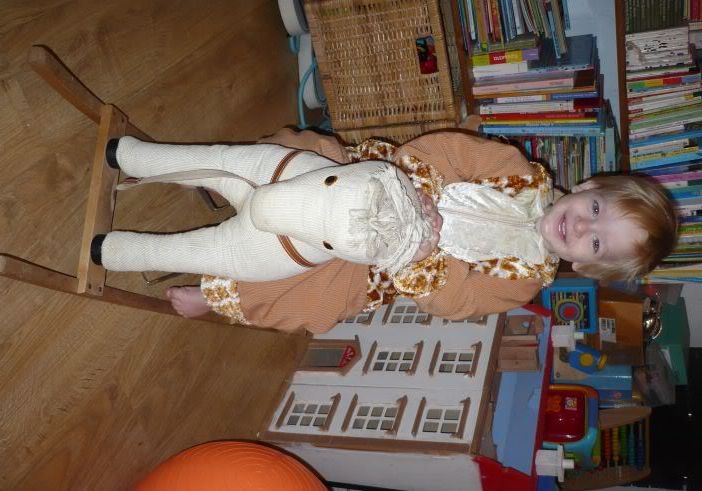 For some reason Philip has developed an unshakable conviction that
"No" means "Yes."
And I mean, literally. Observe:
Philip whining in front of the fridge.Me
: "Philip, what do you want?"
Philip
: "Whine! Whiiiine MEEEEEK! whine whine..."
Me
: "You want some milk?"
Philip
: (very definately, and with some conviction, turns his teary eyes towards me and proclaims:) "NO!!!"
Me
: Ok, no milk.
Philip
: "SHRIIIIIIEK!!!!! MEEEEK!!!!!!!"
Me
: "Oh, it was THAT kind of no."
Later:
Me
:"Philip, do you want to watch Maisy on telly?"
Philip
: (with a large grin on his face, running to the telly:) "No!!! Maisies!"
See? No means yes. Next thing you know, he'll be campaigning against women's right to vote. Mark my words...