Yeah, sorry for the delay! It hasn't been so much due to nothing happening, more like lots of things happening but very very gradually, so that I kept thinking that if I wait just a liiitle bit longer, I might have some news. No news, as it turns out, so you'll be treated to a bog-standard update (with adorable photos thrown in to make it worthwhile.)
PHILIP: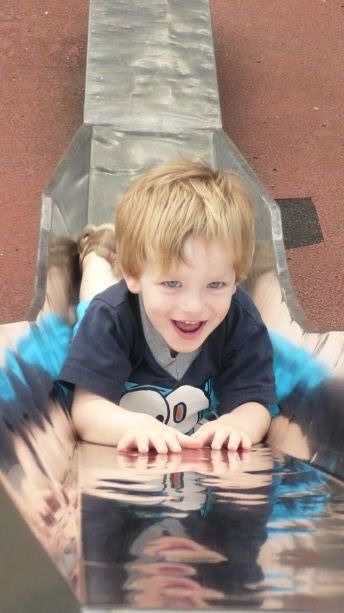 Philip is now 2,5 years old. He is getting a lot less baby-ish and it's so much fun to see him evolving into a little boy. He still has the knack of falling randomly asleep in the middle of other activities:
The butler did it: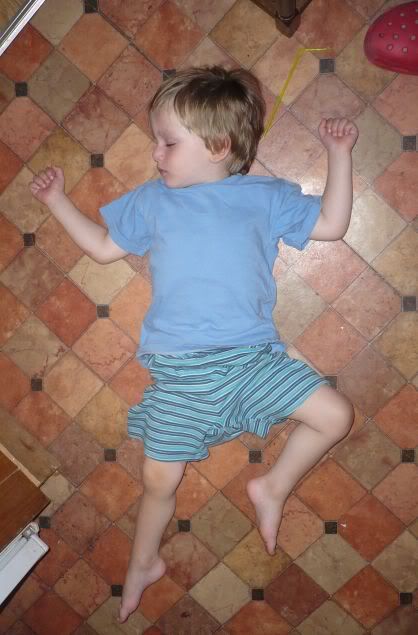 Or was it the Cat?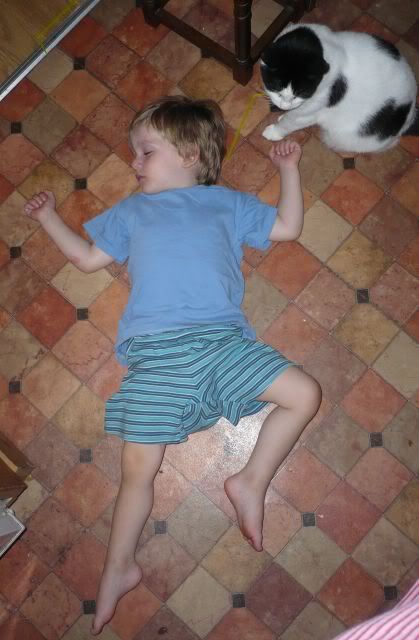 Here he is again, he's found a comfy spot and getting ready to drift off: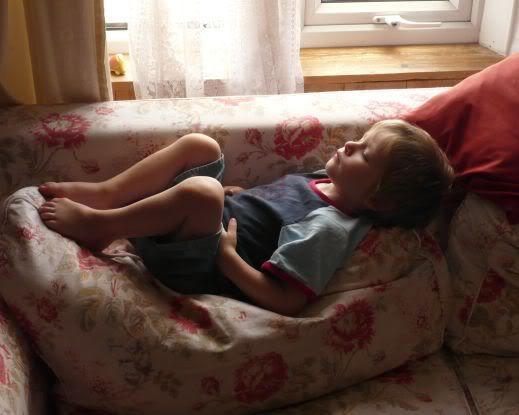 He is talking a lot more. We've been to the GP recently, who confirmed that Philip's speech is now safely within the average zone. (I don't remember if I had mentioned this, but at some point about 6 months ago we had some concerns that Philip's speech was...well...not so much. The GP thought he was on the low side of average, and suggested we come back in a few months. Philip's speech has gotten a lot better since then, and is now squarely within the realm of average.)
Speaking of Philip being less babyish, this little guy is so easy to underestimate!I'll go about my day thinking of him as mostly a baby, and then he'll do something and blow me away! For example, a few days ago Peter and I were having a conversation about how when Matilda was Philip's age we were trying to potty-train her (with very little success, I might add!) but we think Philip is completely unready for it. He doesn't wake up with his nappy dry, he doesn't acknowledge when he is doing/has done a wee or a poo, he can't take his trousers down himself... No sign at all that he might be ready, apart from the fact that he's 2,5 years old. Then today, this happened:
Philip walks up to me, looking playful.Philip
: Mummy!
Me
: Philip!
Philip
: Mummy!
Me
: Philip!
Philip
: I need a wee!
Ooook, off we go, take his nappy off and sit him on the potty. Where he proceeded to do a wee. Yea.
Not sure exactly what we're going to do with this yet, but at the very least he'll be given a lot more chances to sit on the potty. This is very typical Philip though. He sort of sneaks up on you with his achievements.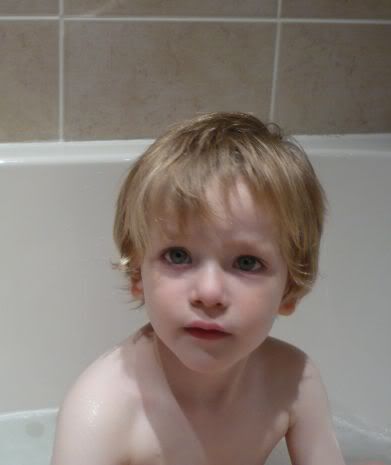 Things Philip loves:
*
Little plastic farm animals
. He has a vast collection of these, and he gets really excited about them. He especially likes shouting out the sounds they make (really loudly,) or making them walk on me. Philip will approach you, wave a tiny cow in your face and holler "MOO!!!! Like a COW!!!! Incidentally, if you make the mistake not to acknowledge him, he sure knows how to get your attention. (Insert scene of Philip following you around, repeating very loudly: "It's a COW! It's a COW! It's a COW! It's a COW! It's a COW! It's a COW!")
*
Jigsaws
. He loves them. He's surprisingly good at them too. He picks them up very quickly and does them without much help. The ones we've got, he knows so well that you can give him a box of 5-6 puzzles of 4-9 pieces each, and he'll just empty the box, sort out the pieces and do them all on his own. Oh hes, and when he's done, he puts them away. Which brings me to...
*
Order
. He certainly didn't get that from MY side of the family! Philip will almost always put things back in their place. He puts his toys away when asked, picks up towels from the floor and hangs them, and he knows exactly where everything goes!
*
Tickling
. He flops on his back, and says "I want tickle" or "How about... tickle!" He's like a puppy.
*
Singing
. Loudly and slightly out of tune ;)
*
Counting
. He loves counting. He can count to ten (the numbers,) and he likes the things he counts to come to 10. If he is trying to count less than 10 things, he finds a way to solve the problem... Have a look: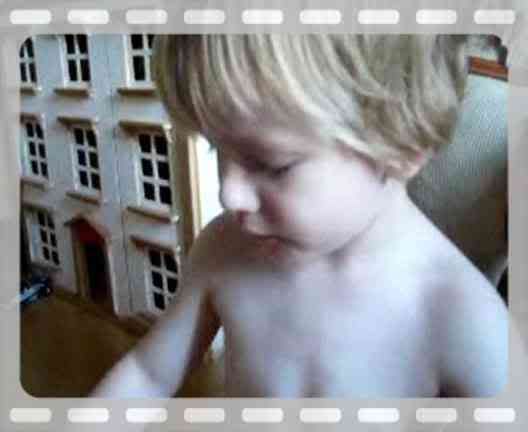 Philip not cooperating with me, but being cute anyway."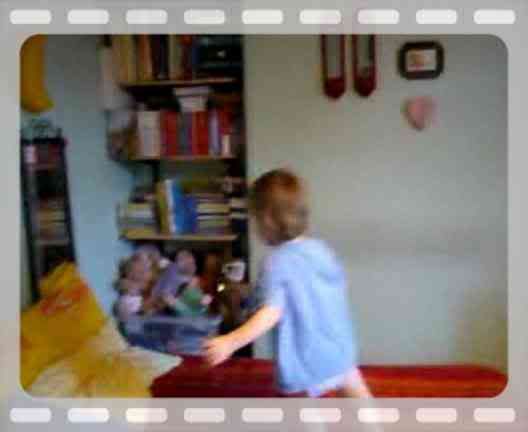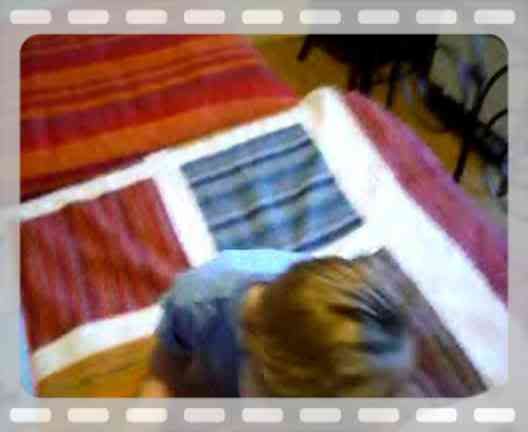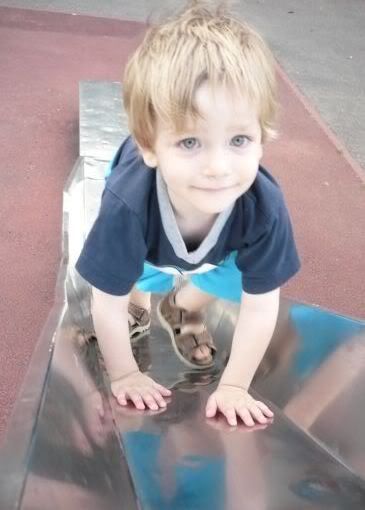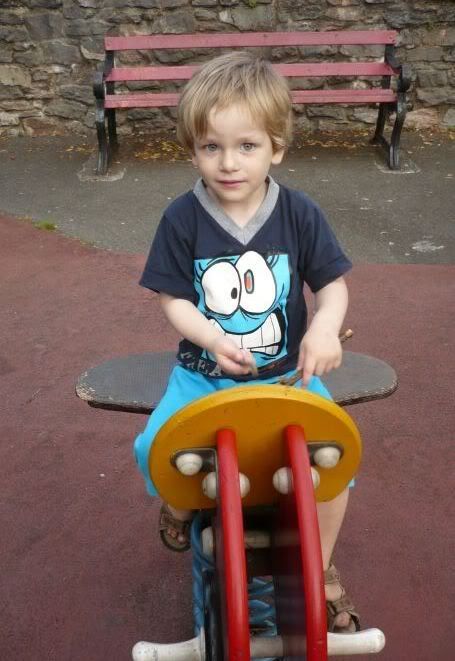 Funny boy: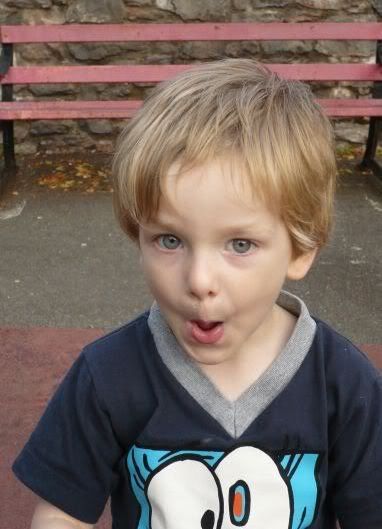 MATILDA: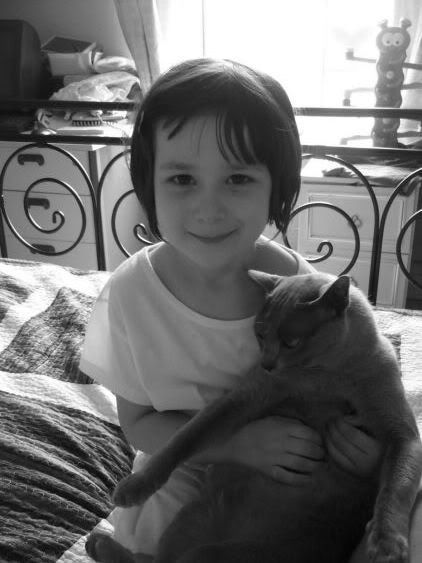 Matilda is *gasp* FOUR! Her favourite animals are pigs and cats. Her favourite things at the moment are Numberjacks (anything to do with them,) and pretending games. It's a very abstract form of pretending games though. Mostly, she'll find a prop, clutch it, and then run up and down, telling herself a story. And I *do* mean run up and down. She has a very busy mind, and she wants to tell herself a story, but her body has all that energy that needs spending... So she runs in and out of the lounge, in-out, in-out, lost in her story. Oh, and if the radio is on, she complains. "Turn it off, I can't hear my story!"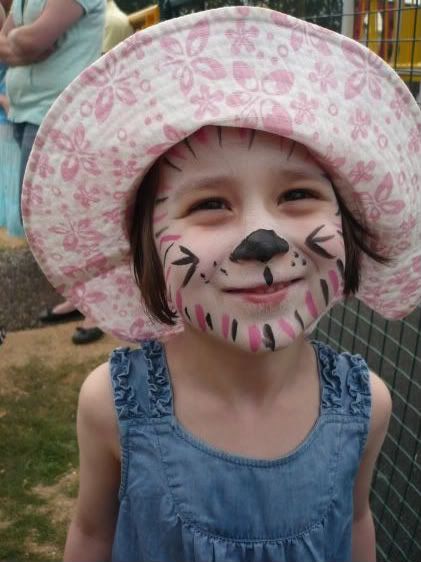 Here she is, on the beach. She refused to get anywhere near the water, and had an absolute scream-fest if you tried to make her get her toes wet. "I'm scared of the sharks!" After we explained there are no sharks in this water, it's not deep enough, there is no space for them to swim etc: "I'm
pretending
!" "But Matilda, why were you crying then?" "I was scared of my pretending game!"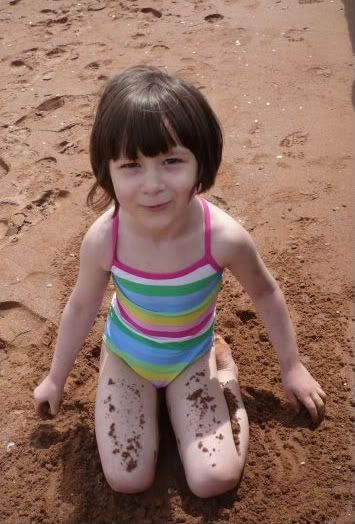 She is very compassionate and tender. She's grown out of the phase of not linking Philip, and now she says he is "the best brother in the world." (Yes, I brainwashed her into saying that!) She also says "Philip is annoying me... But that's ok, that's what families are like. We still love each other."
She loves swinging and climbing, and she has learned to swing herself without being pushed.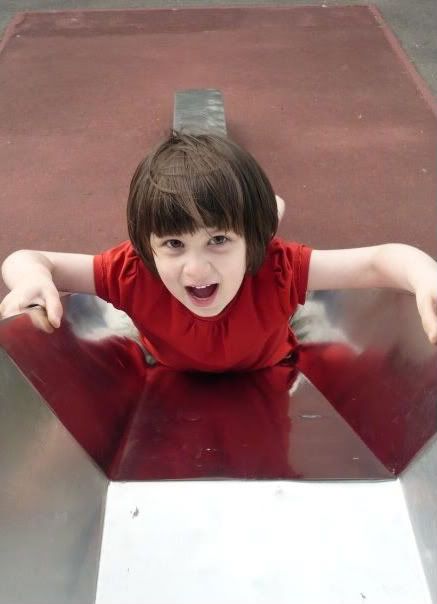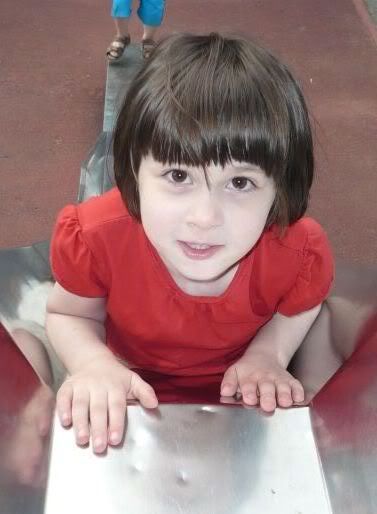 For Matilda's birthday, we went to visit Nanny and Pop-Pop and had a party there, with Mia and Alex as the guests. Nanny made a fantastic Numberjacks birthday cake
(The only way I would have made that would be if the round cake I was trying to bake accidentally came out looking like a four.)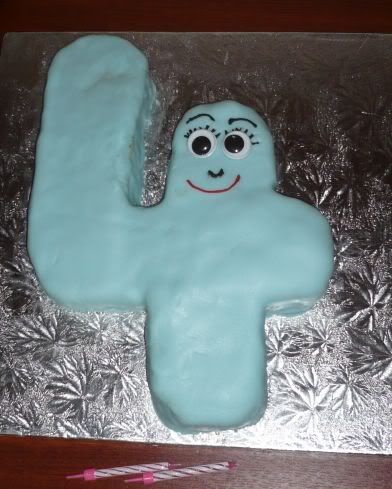 The birthday girl, opening presents: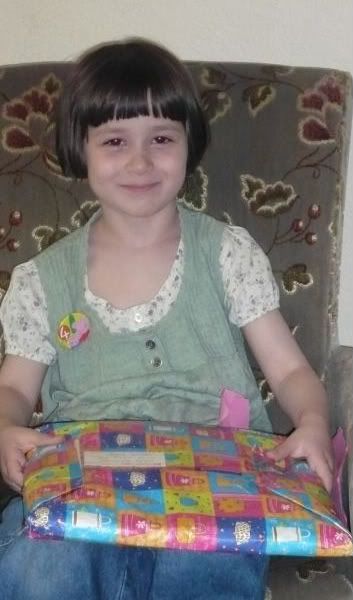 Matilda and Philip, doing some brother-sister bonding: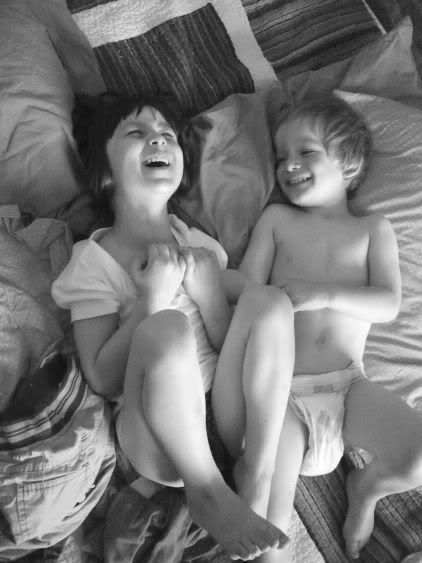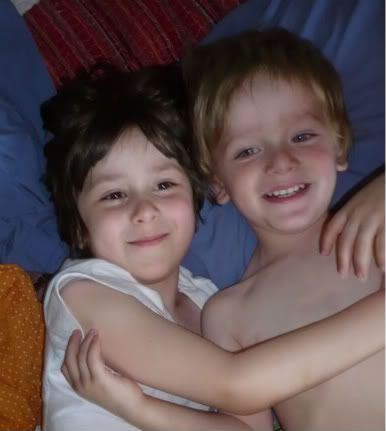 Misunderstanding...
Philip zooms in for a kiss, and Matilda pretends she is a cat.